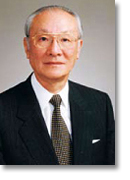 On behalf of Japan Golf Association, it is my great privilege to extend our warmest invitation to welcome delegates, captains, players and officials from all the Member Organizations of the International Golf Federation to Japan for the occasion of 2014 World Amateur Team Championships.
We always feel fortunate and honored that Japan's wish somehow became part of the step necessary toward the inauguration of World Amateur Golf Council in
May of 1958 and the first World Amateur Team Championship immediately after in October at The Old Course in St. Andrews, Scotland.
We have been a very strong supporter of the Organization and its activities which we feel very proud of, as we are fortunately enough to have attended every one of the Championships since the first event.
Our wishes have come true, and thus, this will be the second invitation from Japan extended to all the Member Organizations as we previously hosted 1962 Championships of Eisenhower Trophy at Fuji Golf Course of Kawana Hotel in Shizuoka prefecture as representatives from 23 countries attended, and all spoke highly of the event.
At this time, after half a Century, we, for the first time, welcome both men and women to compete for the Eisenhower Trophy and Espirito Santo Trophy, respectively, and we have prepared Oshitate Course and Iriyama Course at Karuizawa 72 Golf Complex and Karuizawa Prince Hotel Resort in Nagano prefecture which is considered as one of the most popular summer resort in the whole area of Japan.
I am confident that you would enjoy visiting our country, golf courses, accommodations, scenery, but most of all, meeting our people as we will prepare with our warmest hospitality to welcome you all in September of 2014.
We thank you all for your understanding and support.
Takayuki Anzai
President
Japan Golf Association.